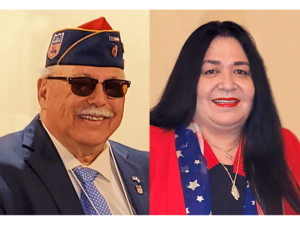 American GI Forum of Texas Report: AUSTIN, Texas – The 2021 National Conference was held in San Antonio Texas began Wednesday, August 11 and ended on Saturday August 14. The situation regarding the pandemic was significantly improved and everyone seemed pleased to be surrounded by old friends. A reminder that the 2020 conference was postponed and not cancelled so even though we renegotiated with the Hotel we did have a contract was honored.
Our conference scheduled at the Wyndham Riverwalk Hotel in San Antonio was moved, because the hotel was sold, to the historical Sheraton Gunter Hotel downtown which gave us a setting close to the famous Riverwalk and the San Antonio's downtown business section, the Alamo, and historic attractions such as the Hemis-faire tower, the Alamo Dome Stadium and surrounded with a multitude of restaurants, boutiques, and curious shops. early arrivals assured attendees of seeing San Antonio without missing out on our quality business and educational sessions or visiting with speakers. This hotel is at "the Center of Everything," and has the highest standards of a first-rate facility and preserving its historical integrity.
The leadership of AGIF Texas deliberated and concluded that this conference could be safely during held the month of August. The end results were that we had good attendance to our safely scheduled events that we wanted including full assemblies at meetings and sit-down luncheons, receptions, and banquets.
We thank everyone who attended with this is a brief reminder land photos of some social events and as a report to those who missed the Conference.
Registration:
Our Registration started the Wednesday afternoon. Executive Meeting session scheduled was postponed and later cancelled by the National Commander Romo.
Breakfast:
Our Conference did get off to a fast and fun start on Thursday with our Annual Technology Breakfast opening the 2021 session. The Breakfast opened with a welcome from San Antonio City Councilmember Mario Bravo District 1. The Keynote for that event was Olga E. Custodio, Lt Col, USAFR (Ret), American Airlines Captain with an inspiration speech. Later a special Presentation of electronic equipment was made to a Corpus Christi elementary school. This presentation was made by the Beatrice Perez Memorial Women's Chapter from Robstown, Texas.
Special Ceremony
Later that morning the AGIF/Texas scheduled a dedication ceremony at our AGIF National Veterans Outreach Program VET facilities to honor past President and CEO Carlos Martinez at the renaming of the street adjacent to the VET facilities Carlos Martinez Drive in his honor. Both events were well attended.
The Corporate and Legislative Awards Luncheon
Introduced as speakers were Judith Canales, Southside First Economic Development Council and Rodney Geter, Engineer, Solutions Architect and Christian Minister. Corporate Awards were presented by M/C Patsy Vazquez Contes Vice Chairwoman Leona Flores.
 General Session:
During the workshops, the Women welcomed Mike Gonzales US Army (Ret.) So. TX Regional Director, Birdwell Foundation, PTSD and Mental Disorders for a very informative seminar complete with a panel.
All business conducted, resolutions and presentation were properly recorded. The minutes of the general session will be presented at the Mid-year Conference. We will not report on issues brought before the assembly because we may have missed some or part of all discussions. The minutes will reflect the important assemblies' actions.
Texas Style Barbeque and Entertainment
Thursday evening, a Texas style Barbeque hosted by Heroes Lodge gave all attendees a taste of Texas with Rudy's Texas Barbecue and Tejano and Western music provided by Roy Reyes and his music and very special entertainment featuring Mr. Cosme Barcelo.
Friday General Session:
The next morning a special presentation of Heroes Lodge a New Texas Project was given by Mr. James Andrews, Design Director for WestEast Design Group, and members of the Heroes Lodge Board.
Legends' Recognition Luncheon:
At noon we paid special tribute to Cristobal Aldrete, an early AGIF pioneer at the Legend Recognition Luncheon. Master of Ceremonies was Past National Commander Juan Mireles and Featured Keynote Speaker Mr. James Aldrete, MAP Communications, and son of Legend Cristobal Aldrete. A historical view of the early AGIF from a son's perspective and personal experiences. A Special Presentation from State & National Commanders to the family followed.
Commander's Banquet:
Master of Ceremonies, Ceasar Ruiz, Texas State Commander introduced Guest Speaker: Brent S. Elyea, Merrill Lynch, Austin, Texas speaking on personal finances and later Keynote Speaker, Maj. Gen Juan Ayala USMC (Ret.) with a very inspirational speech.
 At the Women's Leadership Luncheon:
On Friday, Leona Flores, National Vice Chairwoman introduce MC Patsy Vazquez Contes as MC for the Women's Leadership Luncheon. Keynote Speaker Mrs. Gloria Guillen, because of illness was unable to attend, however a letter from her daughter was read thanking the conference for inviting her mother and honoring her and continuing with her plight for Justice for her daughter. Later a Special Presentation to Gold/Blue Star Mothers by Patsy Vazquez Contes, Leona Flores, National Vice Chairwoman and Commander Larry Romo.
 Afternoon General Session
Elections and Selection of Mid-year and 2022 Conference. Detroit Michigan will host midyear and Colorado Springs will host the 2022 National Conference.
Elections were held later that afternoon and the following 2021-22 National Officers were elected:
 Forum:
National Commander: Louis Vazquez Contes, Colorado
Vice Commander: Mario Perales, Texas
Secretary, Greg Nichols, California
Treasurer: Ernesto Montoya, Colorado
Sgt.-at-Arms:
Women:
Chairwoman: Patsy Vazquez Contes, Colorado
Vice Chairwoman: Leona Flores, Michigan
Secretary: Nebraska
Treasurer: Colorado
The Conference concluded with Pizza, refreshments, desert, and comradery hosted by the AGIF of Texas.