About Us
The American GI Forum is the largest Federally Chartered Hispanic Veterans organization in the U.S. With Chapters in 40 states and Puerto Rico. The AGIF also supports other Hispanic organizations, such as LULAC, NCLR, IMAGE, HACER, and many others. AGIF also has a Corporate Advisory Board (AGIFCAP) that helps with technical advise and financial support.
Our Mission & Vision
The AGIF is dedicated to addressing problems of discrimination and inequities endured by Hispanic veterans. Through the efforts of many of the organization's early leadership, the AGIF grew to other states and has chapters throughout the United States. Though predominantly Hispanic, the AGIF is a fully interracial U.S. veterans and family organization.
In 1998 on the 50th anniversary of the organization, the U.S. Congress Chartered the American GI Forum as a Veteran's Family Organization. The AGIF has maintained a leadership role in many communities and has gained respect among all ethnic groups.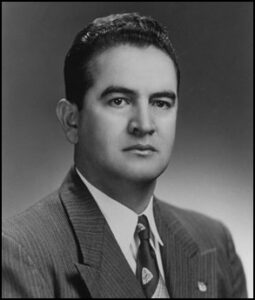 The American GI Forum (AGIF) was founded on March 26,1948 in Corpus Christi, Texas by Dr. Hector Perez Garcia, an Army veteran medical doctor. Dr. Garcia returned from World War II proud of his accomplishments and eager to participate in the American Dream. To his dismay, he witnessed and experienced what Hispanic servicemen across the country were encountering in the pursuit of the American Dream—Deeply rooted prejudice. With nothing more than his determination to overcome these injustices, he successfully formed the American GI Forum, a formidable and patriotic organization. Through it, he helped break down many of the barriers all Hispanic Americans faced in a country that embraced the principles of freedom and justice, but only offered them to a select few.
His leadership and his work led to several high-level appointments by U.S. Presidents including an Ambassadorship to the United Nations. On March 26, 1984, President Ronald Reagan awarded him the nation's highest civilian medal, the Presidential Medal of Freedom. It was an honor worthy of a man who knows very keenly the meaning of freedom.
Dr. Hector P. Garcia passed away on July 26, 1996, but many reminders of his legacy exist for future generations to remember his work. A statue of Dr. Hector P. Garcia stands on the campus at Texas A&M, Corpus Christi, in a plaza named in his honor. It was unveiled a few weeks before his death. Many schools, post offices, government buildings and libraries throughout the state and country bear his name. Most recently a National Guard Armory was re-named in his honor. Every 10 years, since 1948 the National Convention of the American GI Forum convenes and is hosted by the Hector P. Garcia Chapter of Corpus Christi, Texas, the first chapter and the birthplace of the American GI Forum of Texas and of the United States.
"In military service, in medicine, and in the civil rights movement, Dr. Garcia answered the call of duty at every opportunity and made a positive difference in the lives of millions of Americans. His story reminds us all that with enough dedication, each of us can make progress in our society if we are willing to step forward and act with conviction."  – Texas Senator John Cornyn