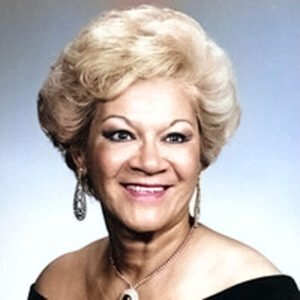 Maria 'Mary' Ramirez passed away in Corpus Christi, Texas on April 28, 2023, at the age of 80. She was born the third of six children to Josefina and Ruben Rosales on August 18, 1942, in Raymondville, Texas.
A beloved wife, mother, grandmother, great-grandmother, sister, aunt, and friend to many has been called to her heavenly home. She exemplified the definition of beauty, elegance, and love. This beautiful legacy lives on in our hearts forever.
Maria, was a long-time, very active member of the American GI Forum and served the organization in many capacities beginning as a Junior GI Forum member, selected as Miss Texas GI Forum, Mary never stopped. We will always be grateful for her dedication and accomplishments:
Mary began as a member of the Jr. GI Forum Group in Corpus Christi, Texas; Represented the AGIF of Texas in the Queen Competition at the American GI Forum of the United States in Omaha, Nebraska; was a Board Member for the Nueces County Community Action Board; Board Member of the of the American GI Forum National Archives; Founder of the Coastal Bend Women's Chapter in Corpus; was State Chairwoman of the American GI Forum of Texas; National Chairwoman of the America GI Forum of the U.S.; Served on the SER Board of Directors under the umbrella of National SER; Member of the Hispanic Education Foundation of the American GI Forum of the U.S.
Our condolences, prayers, and thoughts to her husband of 63 years, Tom, her daughters Pearl Trevino and husband Rick Trevino, Dina Ramirez, Heather, and husband Zubby O'Gene, and Laura Ramirez, all her Grandchildren, and great-grandchildren and to her many friends. We and all who knew her shall miss her. May she rest in Eternal Peace in the presence of our Heavenly Father.