State Conference was held in San Marcos in June 27-28, 2022
American GI Forum of Texas, Inc.– (AUSTIN, Texas) The 2022 Texas State Conference was held at the Courtyard by Marriott Hotel in San Marcos, Texas June 24-27 2022. The Conference was called to order by Commander Ceasar Ruiz. A quorum was declared after roll cal . Attendance met with enough chapters to officially conduct Business and approve standing committee reports, resolutions and reports of State officers.

Because the Hotel's restaurant is closed, it was arranged to have our meals catered. The Conference Committee headed by Lupe Rodriguez did a good job in selecting a caterer who provided the scheduled meals and reception food. The hotel allowed off-site refreshments besides the meals by the caterer provided iced tea.
Given a short schedule everything possible was done to ensure members stay was comfortable and enjoyable. The Conference was dedicated to a long-time member and San Marcos legend. Mr. Celestino Mendez who had recently passed was honored at all events. So, we thought the proper theme would be "Honoring Celestino Mendez a San Marcos Legend." You had a special reception and several members talked about his involvement locally, state-wide, and nationally. He was also an early leader of our National Veterans Outreach Program (NVOP). One of his daughters was invited and presented a personal view of her father and his many accomplishments.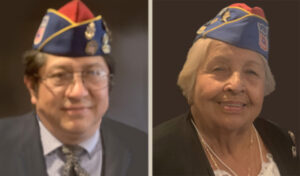 Other speakers included, Past National Commander Juan Mireles, Texas CEO Gil Rodriguez and local chapter members. He was honored and mentioned throughout the conference. A good members, community leader, Husband, Father and Friend. He will be missed.
Financial, Legislative, Veterans and other reports were given and approved. Several resolutions were passed and were later presented at the National Conference. Elections of Officers were held and the new elected State Commander is Mario Perales from Ft, Stockton won and State Chairwoman Sylvia Garza from San Marcos was elected unopposed. Mostly new Officers were elected and are posted below.
State Commander, Mario Perales, Ft. Stockton
1st Vice Commander, Phillip Gutierres, Austin,
2nd Vice Commander, Gus Peña, San Antonio
Sgt-at-arms, Manuel Perez, Houston
Secretary, Armando Longoria, Austin (appointed)
Chaplain, Paul Herrera, Austin (appointed)
Past Commander, Ceasar Ruiz, Austin
State Chairwoman, Sylvia Garza, San Marcos
Vice Chairwoman, Jeanie Aleman, Houston
Secretary, Dolores 'Dee' Leal, Houston
Treasurer, Cede Perez, Houston Texas
Past Chairwoman, Tina Olivares, Corpus
Congratulations to our new board!
More news: Phillip Gutierrez, Austin was selected Outstanding Forum Member and Belinda Weber, San Marcos was selected Outstanding Woman. El Paso, Texas was selected as the site for our 2023 State Conference. More information coming.