The American GI Forum of Texas, Inc Report: CORPUS CHRISTI, Texas – The American GI Forum of Texas and host Beatrice T. Perez Womens Robstown Chapter, delegates and members of the American GI Forum, Celebrated the 75th anniversary of the American GI Forum at its birth–place, Corpus Christi, Texas, June 19-21, 2023. Corpus Christi is one of the most beautiful coastal cities in the nation. It is the county seat of Nueces County, it extends into Aransas, Kleberg, and San Patricio counties.
This year the annual conference gave us an opportunity to welcome and thank Corporate America as we offered them an opportunity to network with our leadership by attending our luncheons and banquets as well as our VIP receptions and visit with our leadership, membership and invited guests.
Our advocacy work at the State Capitols and our partnership with Corporate America allows us to exchange ideas on how we can mutually benefit and help our veterans and communities.We were honored to have the Honorable Paulette Guajardo, Mayor of Corpus Christi present for the opening of celebration luncheon and welcomed us to this beautiful city. Ms. Barbi Leo, 3News Co-Anchor served as AGIF Event Mistress of Ceremonies.
We were honored to have the 4 members of the County Commissioners Court, representatives from the Texas State Senate and House of Representatives. We also honored some very special guests and outstanding AGIF members. Among them our National Commander, Luis Vazquez Contes as well as Presidential Medal of Freedom Nominees, LeRoy and Rosie Torres, Founders of the Burn Pits 360 Group, advocates helping veterans suffering from injuries caused by the massive disposal sites on overseas bases, the PACT ACT.
The American GI Forum Conference Honored 3 outstanding Volunteer Women for their hard work, their dedication and commitment to their communities. They are Sylvia Amaro, HR Manager, American GI Forum National Veterans Outreach Program (NVOP); Sylvia Garza, State Chair–woman, Greater San Marcos SSGT J.P. Nevares Memorial Women's Chapter and Jeanie Aleman, State Vice Chairwoman Greater Houston Women's Chapter.
The conference, beside our own AGIF business sessions, Mr. J. J. De La Cerda, Nueces County Director of Veterans Services and Veterans Service Officer conducted a Special Veterans Benefits Workshop. President and CEO of the National Veterans Outreach Program (NVOP), Mr. Sergio Dickerson who did an outstanding job as speaker at our 75th Luncheon and Commanders' Dinner. All Luncheons, and Dinners were well attended. A very special treat at the 75th Anniversary Lun–cheon hosted Texas A&M University, Corpus Christi on Tuesday.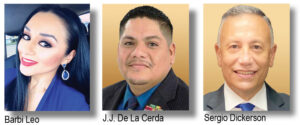 As an Appreciative gesture, the American GI Forum of Texas Commander, the Board of directors, members, and Conference Committee wish to thank President and CEO, Dr. Kelly Miller, Texas A&M-CC and her staff for their Hospitality, continued support, for making this Historic 75th Anni–versary Celebration at Texas A&M Corpus Christi.
We also appreciated and enjoyed the wonderful Corpus Christi weather, sunny beaches, the beautiful sites, the camaraderie with friends from around the state and the great South Texas Hospitality. Again, thanks to the host, the Beatrice T. Perez Women's Robstown Chapter and Chair Leslie Cristan for providing this conference attendees a memorable stay